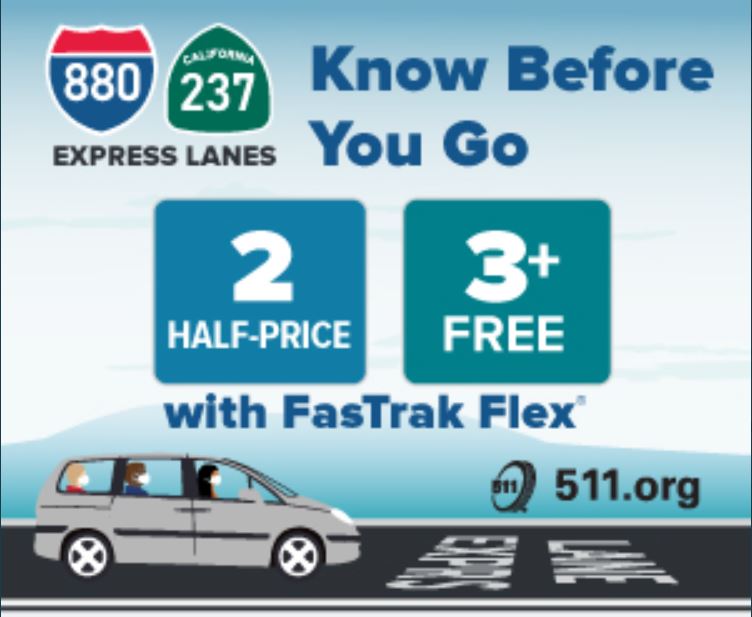 State Route 237 is known for the many large companies that line its corridor. But with more people working from home these days, employees and other travelers might be missing important information about upcoming changes to the SR 237 Express Lanes. Beginning Friday, Oct. 2, the occupancy requirement for toll-free travel in the SR 237 Express Lanes will change from two to three occupants.
Why are the High Occupancy Vehicle (HOV) requirements on SR 237 changing now?
This change stems from an effort to maintain regional consistency in express lane corridors that "ring the bay" along I-880, SR 237 and US 101. The Oct. 2 date that the new high occupancy vehicle (HOV) requirements on SR 237 go into effect coincides with the opening of the I-880 Express Lanes in Alameda County, which will also have an HOV3+ policy.
What benefit is there for two-person carpools?
Vehicles with two occupants will be eligible for a 50-percent toll discount with a FasTrak Flex toll tag, which is required of all users in the lane. To encourage carpooling and more people in fewer vehicles, this HOV2 provision was included in the Express Lane toll ordinance adopted by the VTA Board of Directors in December 2018.
What about clean-air vehicles?
VTA began tolling Clean-Air Vehicles (CAVs) on the SR 237 Express Lanes in November 2019. Drivers with eligible CAV decals (purple, red, or orange in 2020) receive a 50-percent discount on tolls with registered CAV toll tag. A CAV with two occupants will not receive a second discount for meeting HOV2 requirements.
What if my car is a two-seater? Or a motorcycle?
Two-person carpools in two-seater vehicles can travel toll-free in both the SR 237 and I-880 Express Lanes. Motorcycles will also continue to use the lane toll-free. Please set your FasTrak Flex toll tag in the 3+ position before driving.
Article provided by VTA Deanna Bolio