The Moffett Park Business Group is a membership-driven organization, committed to supporting the social, environmental, and economic health of our community through mutual cooperation and advocacy.  We address common business concerns within the Moffett Park area, with a focus on development, sustainability, community engagement, and improved mobility.
Moffett Park in Sunnyvale, CA
Moffett Park is located in the northern most portion of the City of Sunnyvale. The identified class A industrial area contains approximately 1,156 acres with many startup, mid-size and Fortune 500 companies. There are an estimated 40,000 people who work in the Moffett Park. The park boundaries consists of Moffett Federal Airfield to the west, the bay to the north, state route 237 to the south and Baylands Park to the east.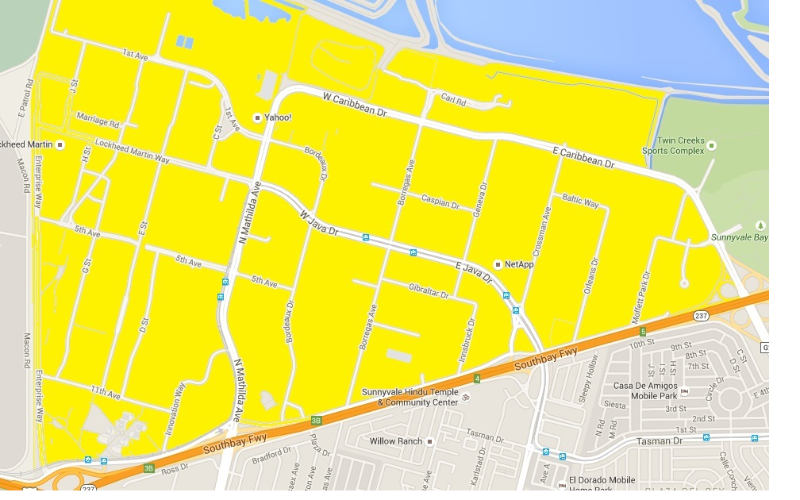 2021 – 2023 Board Members
Executive Committee
Chair – Jeff Holzman, Google
Vice Chair – Brian Cox, Jay Paul Company
Secretary/Treasurer – Open,
Immediate Past Chair– Benita Kent-Hibbard, Lockheed Martin
Directors At Large
Open, Amazon Lab 126
Davy Zhao, Baidu
Susan Price, CommonWealth Partners
Philip Goldworth, Detati Digital Marketing
Agustin Torres, Jr., Meta (Facebook)
Mike Lerhman, AC Marriott & TETRA Hotels
Aaron Kovach, Infinera
Jodette Yohanna, JSR Micro
Connie Verceles, City of Sunnyvale, ex-officio
Staff
Kerry Haywood, Executive Director
Partner Organizations
Santa Clara Air Resource Team
Santa Clara VTA
Sunnyvale Silicon Valley Chamber of Commerce